If you are struggling with OCD or anxiety, finding the right counseling can be a huge relief. There are many different types of counseling available, and it can be difficult to know which one is right for you. In this blog post, we will discuss the different types of counseling available for OCD and anxiety, and help you find the right one for you!
What Is Anxiety?
Anxiety is an umbrella term for a wide range of different mental health conditions characterized by chronic and severe feelings of worry, fear, and uneasiness. Anxiety can manifest itself in physical symptoms such as rapid heartbeat, sweating, shaking, or trembling. It can also cause psychological symptoms like difficulty concentrating, negative thoughts about oneself or the world around them, and feeling overwhelmed.
Anxiety is a normal part of life, and it can be helpful in certain situations – such as preparing for a job interview or exam. However, when anxiety becomes severe and begins to interfere with everyday activities, it may be time to seek professional help.
What Is OCD?
Obsessive-compulsive disorder (OCD) is an anxiety disorder characterized by intrusive thoughts or images (obsessions) and/or repetitive behaviors or rituals (compulsions). Common obsessions include worrying about contamination, germs, perfectionism, unwanted thoughts about harm coming to others, or excessive doubt. Common compulsions include hand washing, counting things repeatedly, checking locks multiple times a day, repeating words in one's head for long periods, or organizing items in a specific order. OCD can interfere with daily life and relationships.
Finding OCD and Anxiety Counseling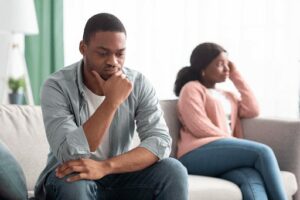 Treating OCD and anxiety can be a challenge. That's why it's important to find the right counseling for yourself or your loved one. Here are some tips to help you find the right OCD and Anxiety Counselor for you:
1. Do Your Research – It's essential to do your research before selecting an OCD and Anxiety Counselor. Look up different types of counselors in your area, read reviews from other patients, as well as check out any certifications each counselor may have.
2. Ask Questions – Once you've narrowed down your selection of potential counselors, reach out to them with specific questions regarding their experience treating OCD and Anxiety disorders. The more information you can gather about their methods, qualifications, and success rates, the better.
3. Consider Telehealth Options – If it's difficult for you to travel or attend in-person counseling sessions, many counselors now offer telehealth services. This can be a great option if you need flexibility and access to quality treatment without having to leave your home.
4. Set Up an Initial Session – Once you've chosen a counselor that fits your needs and expectations, schedule an initial session with them. During this session, feel free to ask any questions that may arise and go over any concerns or goals you have for the counseling process.
5. Talk It Out – Finally, be willing to open up about your experiences with OCD and anxiety during counseling sessions. You may feel uncomfortable talking about your issues, but it's important, to be honest, and express yourself for counseling to be effective.
Finding the right OCD and Anxiety Counselor can take some time, but it's worth it in the end. With the right counselor, you can learn how to manage your symptoms and live a healthier, happier life. So don't hesitate – to start researching counselors today.
Different OCD and Anxiety Counseling
There are a variety of different types of OCD and anxiety counseling available. Depending on your individual needs, you may opt for one-on-one therapy with a mental health counselor or psychiatrist.
These types of one-on-one treatments are often used to identify and address the underlying causes of OCD or anxiety and develop tailored strategies to help you manage the condition.
Cognitive behavioral therapy (CBT)
Cognitive behavioral therapy (CBT) is a type of counseling that can help you identify, challenge,e and change negative thinking and behavior. In CBT, therapists work with clients to help them develop effective techniques for managing their anxiety symptoms. This form of counseling focuses on problem-solving skills and encourages the patient to take an active role in his or her care.
Group therapy
Group therapy is another popular option for OCD and anxiety treatment. Also, Group therapy typically involves several people with similar mental health issues who meet regularly with a trained mental health counselor to discuss problems and share strategies for coping. In a group setting, patients can find support from peers who understand what they are going through and learn how to practice healthier behaviors in stressful situations.
Exposure and response prevention (ERP)
Exposure and response prevention (ERP) is a type of therapy that can help people with OCD or anxiety reduce their symptoms. This type of counseling helps patients confront situations that trigger their distress while teaching them techniques to manage it without engaging in compulsive behaviors. ERP typically involves gradually increasing exposure to the source of fear over time, rather than avoiding it completely.
Accelerated Resolution Therapy (ART)
Accelerated Resolution Therapy (ART) is a new form of psychotherapy that uses eye movements, guided imagery, and other techniques to help people quickly reduce their symptoms of OCD and anxiety. This therapy focuses on helping patients actively confront their fears, allowing them to move past the traumatic memories or situations that are causing distress.
Acceptance and Commitment Therapy (ACT)
Acceptance and Commitment Therapy (ACT) is a type of counseling that focuses on helping people accept their thoughts, emotions, and behaviors without judgment. This form of therapy encourages individuals to embrace their experiences as part of life and move forward with acceptance instead of trying to control or suppress the distress they feel. ACT can be used in conjunction with other therapies such as CBT and ERP to provide more comprehensive treatment for OCD or anxiety.
Psychedelic-Assisted Therapy
Psychedelic-assisted therapy is a relatively new form of treatment for OCD and anxiety that uses drugs such as psilocybin (the active ingredient in "magic mushrooms") to help patients process difficult emotions and reduce the severity of their symptoms. In psychedelic-assisted therapy, people are guided through carefully controlled experiences with the drug by trained professionals who provide support and guidance throughout the process.
Why Do People Prefer OCD and Anxiety Counseling?
People who are struggling with OCD and anxiety may find it difficult to cope on their own. This is where counseling can help. Counseling provides a safe and supportive environment, allowing individuals to openly discuss their feelings and gain insight into the underlying causes of their struggles. In addition, counselors provide valuable strategies and tools for managing OCD and anxiety symptoms more effectively.
Some of the benefits of OCD and anxiety counseling include:
• Increased self-awareness – Counseling can help individuals identify the thoughts, behaviors, and beliefs that are causing their distress. This increased understanding can lead to better-coping strategies and improved mental health. Self-awareness is also the first step in developing meaningful change.
• Improved stress management – Counseling can help individuals recognize when they are feeling overwhelmed and provide strategies for managing their symptoms. This improved understanding of how to effectively cope with anxiety can help reduce its intensity and frequency, leading to better overall mental health.
• Increased sense of control – Anxiety often causes feelings of helplessness and powerlessness, but counseling can provide individuals with a greater sense of control over their lives and emotions. With more insight into the underlying factors contributing to their distress, individuals can begin to take charge of their lives by exploring new solutions for managing OCD and anxiety. Altering one's behavior is often the first step in creating lasting change.
• Developed healthier relationships – It can be difficult for individuals to cultivate healthy relationships when struggling with OCD and anxiety, but counseling can help. Counseling provides insight into how these struggles are affecting one's ability to form meaningful connections with others and helps develop better communication skills. This improved understanding of interpersonal dynamics can lead to more fulfilling relationships.
Conclusion
OCD and anxiety counseling can be a very important step for anyone who is struggling with their mental health. It's essential to find the right therapist, and there are many resources available online to help make this process easier. Consider what type of counselor you want to work with, such as those specializing in Cognitive Behavioral Therapy or Exposure and Response Prevention-based counseling.
However, Do not hesitate to ask questions about their practice and treatment methods if something does not seem quite right. Ultimately, finding the right OCD and anxiety counseling can make all the difference in helping you take control over your mental health journey!
For more information and guidance, please contact OCDMantra. OCD is a mental health disorder characterized by obsessions and compulsions. If you have any queries regarding OCD treatment, ERP therapy experienced therapists at OCDMantra can help: Book a trial OD therapy session.