Are you someone who is plagued by thoughts of germs and bacteria? Do you feel like you can't stop washing your hands or obsessively cleaning your house? If so, you may be suffering from OCD germaphobia. OCD Germaphobe can be treated, but it takes time and effort. In this blog post, we will discuss the signs of OCD germaphobia as well as the treatment options that are available to you.
What Is OCD Germaphobe?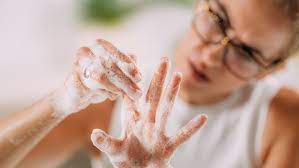 OCD Germaphobe is a type of Obsessive Compulsive Disorder (OCD) in which the sufferer has an intense fear of germs and contagion. This fear can manifest through compulsively washing hands, avoiding contact with others, refusing to touch objects that could possibly be contaminated, and even avoiding public places altogether.
In order to overcome mysophobia, you work with your mental health provider to identify the causes of your fear of germs. This is the first step in overcoming mysophobia. Your therapist gradually exposes you to situations with germs once you feel comfortable.
Signs And Symptoms
There are various signs and symptoms to look for in OCD Germaphobe, such as:
Washing hands excessively and often after touching objects, even when they are known to be clean
Feeling anxious when in contact with others or objects that could possibly be contaminated
Avoiding public places due to fear of contagion
Obsessively cleaning items or surfaces
8 Effective Strategies For Treating OCD Germaphobe
There are various strategies for treating OCD germaphobe:
1. Cognitive Behavioral Therapy (CBT)
CBT is a form of psychotherapy that helps the person identify, challenge and change the thoughts and behaviors that lead to OCD-related anxiety and compulsions.
2. Exposure and Response Prevention (ERP)
This treatment exposes the person to their fear triggers while simultaneously preventing them from performing the compulsive behavior.
3. Dialectical Behavior Therapy (DBT)
This form of therapy focuses on understanding and accepting both psychological and emotional reactions to triggers in order to better manage them, rather than trying to completely avoid or suppress them.
4. Acceptance and Commitment Therapy (ACT)
This therapy helps people learn to accept their OCD-related thoughts and feelings without responding to them with compulsive behaviors.
5. Meditation
Mindfulness meditations can help the person better understand their thoughts, see them as just passing mental events rather than something that needs to be acted upon.
6. Relaxation Techniques
Simple relaxation techniques such as progressive muscle relaxation can help the person better control their anxious feelings.
7. Support Groups
Joining a support group that is specifically designed for those with OCD-related compulsions can provide additional assistance and advice on how to manage life with OCD germaphobe.
8. Professional Counseling
Working with a professional counselor or psychologist can help the person gain insight into their condition and learn new strategies for managing their symptoms.
By utilizing these strategies, the person can learn to control their anxiety and compulsions related to OCD germaphobe in order to lead a healthy and fulfilling life. Additionally, it is important for a person suffering from OCD-related symptoms to also seek out supportive family members or friends who can provide emotional support throughout the treatment process.
Is There A Cure For Germaphobe?
CBT is a psychological treatment based on gradual exposure to feared situations and anxiety management strategies such as relaxation and breathing.
During CBT therapy, a psychologist works with the patient to identify situations and stimuli that trigger the phobia and then gradually exposes them to those triggers in a safe environment. The therapist also helps the patient practice relaxation techniques and other anxiety-management strategies.
If the fear is severe enough, a doctor may prescribe an antianxiety medication or a benzodiazepine such as Xanax or Valium for short periods of time.
Germaphobia can be extremely disruptive to everyday life, but treatment is available and often successful in reducing or eliminating the fear. It's important to seek professional help if your symptoms are severe and you find that they interfere with your daily activities. With proper treatment, it is possible to manage germaphobia and live a healthy, productive life.
In addition to professional treatment, there are other steps you can take to help manage your fear of germs. One of the most important strategies is to practice good hygiene, such as handwashing and regular bathing. Finally, taking time out for yourself and engaging in activities like exercise or yoga can help reduce stress and anxiety levels related to germaphobia.
How Do You Deal With Germaphobe OCD?
Dealing with germaphobe OCD can be incredibly difficult for those affected, as it can lead to compulsive behaviors that are hard to control. However, there are several strategies that can help manage germaphobia OCD and reduce the impact of this disorder.
First and foremost, it is important to identify what triggers your obsessions and compulsions so that you can work to avoid them. This may mean avoiding certain activities or environments that increase your anxiety and lead to obsessive thoughts or behaviors.
It is also important to find ways to manage the stress associated with germaphobe OCD, as this can worsen symptoms and cause further distress. Relaxation techniques such as deep breathing, progressive muscle relaxation, and guided imagery can help to calm the mind and reduce obsessive thoughts.
It is also essential to find healthy ways of coping with the distress caused by germaphobe OCD. This could include seeking out compassionate support from family or friends, participating in activities that bring joy and pleasure into your life, or engaging in regular exercise.
Talking to a mental health professional is also an important step in managing germaphobe OCD. A therapist can help you identify and challenge your irrational thoughts develop healthier coping strategies, and provide support as you navigate this difficult condition. With the right treatment plan, it is possible to manage germaphobe OCD and reduce its impact on daily life.
CBT involves gradual exposure to feared situations and anxiety management techniques such as relaxation and breathing. It also teaches coping strategies and helps a person reframe their thoughts about germs in order to reduce anxiety. .
Overall, managing germaphobe OCD can be a challenge but it is not impossible. By identifying triggers and developing healthy coping strategies, people with this disorder can find relief from their symptoms and live a more fulfilling life. With the right support and dedication, recovery is possible.
Conclusion
It may be concluded that Germaphobe OCD treatment can be successful with the right diagnosis and treatment plan. By identifying triggers and developing coping strategies, people can manage their disorders more effectively. With patience, commitment, and support from friends and family, recovery is possible.
With the right help, Germaphobe OCD does not have to be a source of fear or distress in your life. You can learn to manage your symptoms and take control of your life. With the right treatment options, you can find relief and live a more fulfilling life.
If you or someone you know is suffering from Germaphobe OCD, there are treatment options available to help. Reach out to a mental health professional for advice and support today. With the right help, recovery is possible. Find the hope and strength to move forward with your life!
For more information and guidance, please contact OCDMantra. OCD is a mental health disorder characterized by obsessions and compulsions. If you have any queries regarding OCD treatment, ERP therapy experienced therapists at OCDMantra can help: Book a trial OCD therapy session